Make Decisions Easier With Our IT Staffing Checklist
It's no secret: staffing isn't easy. You have to plot, plan, and study to see what you need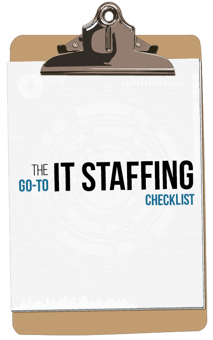 exactly. Tired of always having to go to a third party to get hiring accomplished? Or maybe you're pondering the benefits of moving an employee to a department that you think would better suit them? This checklist has been developed for you.
What's Covered in This Checklist?
Here are a few questions that are covered in this expansive, twelve-page checklist:
What are the benefits of hiring a contract/temporary worker?
How much should I spend to acquire new talent?
Should I outsource my IT department?
Should I move an employee to another department?
This checklist will help you hone in on what it is exactly that you need and make an educated decision. No waiting - you'll have the checklist immediately!